Get Your Facebook Ads Done-in-Day
Say Goodbye to Blinking Cursors and 'Seen That Before' Canva Templates and Have Your Next Ad Campaign Expertly Crafted in Just 24hrs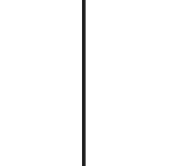 CAN YOU IMAGINE?
✔️ Campaign Strategy – Check!
✔️ Ad Copy Written – Check!
✔️ Ad Graphics Designed – Check!
And all you had to do was show up for 60mins.
😎 😎 😎
Let's be honest, if you're not already an ads wiz then coming up with ideas for your facebook ad campaign sucks!
You've already spent hours working on your offer, the sales page, the landing page, the email sequence… and now you have to write ad copy?! Please no. 
You've already bought a course or mini-offer on Facebook ads so you get the basics but you're never 100% sure you're doing it right. 
You've tried to decipher the business manager, keep up with the iOS updates and learn how to create graphics that somehow "stop the scroll"  but you just feel overwhelmed and defeated. 
Even if you don't mind writing your own ads, you just never seem to have the time to do them justice and end up throwing something together at the last moment – or just never launching them at all. 
You're not sure another course or swipe file can help you, and you're ready for REAL results. You're tired of wasting time, money, and energy on DIYing and ending up with nothing to show for it. 
Perhaps it's time to release all that stress and hand it over to an expert. 
I get it because I hear this from my clients all the time, which is why I'm so excited to bring this to you at a fraction of the cost it takes to hire a full-service ads agency!
You need a Facebook Ads VIP Day!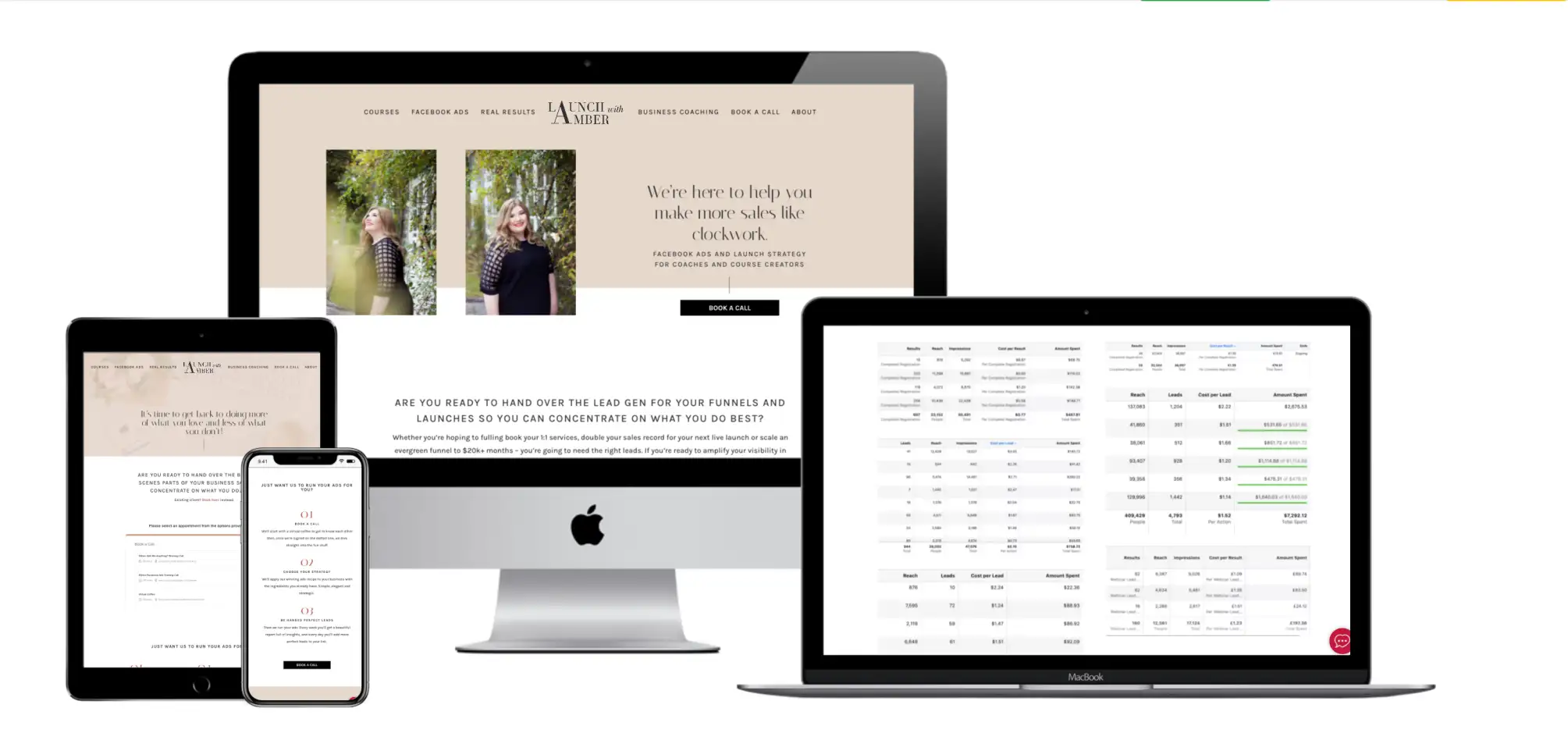 This is a 1:1 done for you experience where we map out a Facebook Ads campaign to get more leads on your list or purchases for whatever you'd like to promote.


Here's how this all works….
Choose Your VIP Day Style
First of all, decide which ad campaign you'd like me to work my magic on. Is it to grow your email list, or to gather leads for an upcoming launch or promote a tiny offer? You choose!
✔️ Choose between a full day or two half-days
✔️ Flexible scheduling for multiple time-zones
✔️ Expertly written ads for your list building campaign, or your next launch.
      (Includes retargeting ads!)
60min 1:1 Strategy Call
Our day starts with a 60min 1:1 strategy call with me, Amber. On this call we'll go over all the details of the campaign you'd like to run, your audience, your messaging and your brand voice – so that all your ads sound like you and fit with your brand.
✔️ Completely custom campaign strategy
✔️ Dialled in messaging and brand voice – just for your ads.
✔️ BONUS: Complete review and feedback on your landing page or sales page to increase conversions.
We Create Your Ads For You
And then we go our separate ways! I go and write up the first draft of your ad copy, to include 3 variations for you to split test in the ads manager. My in-house designer will also create a variety of graphics to go with your ads, to include ones for the newsfeed, stories and GIFs.
✔️ Custom written Facebook Ads copy.
✔️ Custom designed Ad graphics.
✔️ Multiple variations for you to split test and use for different placements.
Review Call + Final Edits
Finally, we meet up again at the end of the day to go over any feedback you might have and make any final edits together. You'll go away with your custom written Facebook Ads campaign, including your copy, ads graphics and a fully optimised landing page.
✔️ Second 1:1 call with Amber to ask questions and fine tune your ad copy.
✔️ One round of revisions and edits to your ad copy and ad graphics.
✔️ BONUS: Tutorial on how to set up your ads correctly in the ads manager, including A/B split testing.
"Amber, I've just checked my sales and I've already made our initial investment back from working with you in just two weeks!
With ads and my live launch email sequence – I'm starting to see results for the first time with ads.
I'm incredibly excited and so happy I found you!"
Ready to book your VIP Day?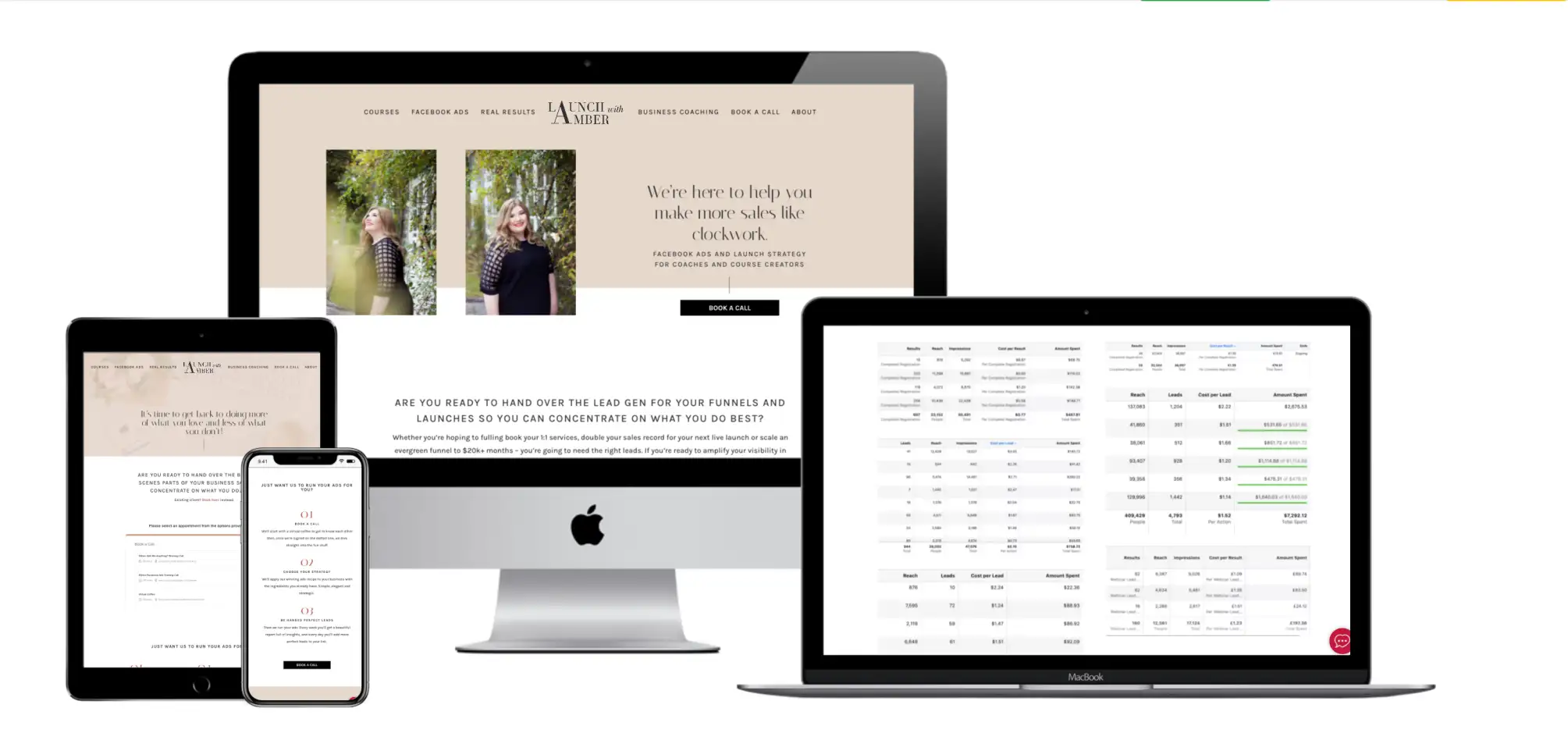 This is a 1:1 done for you experience where we map out a Facebook Ads campaign to get more leads on your list or purchases for whatever you'd like to promote.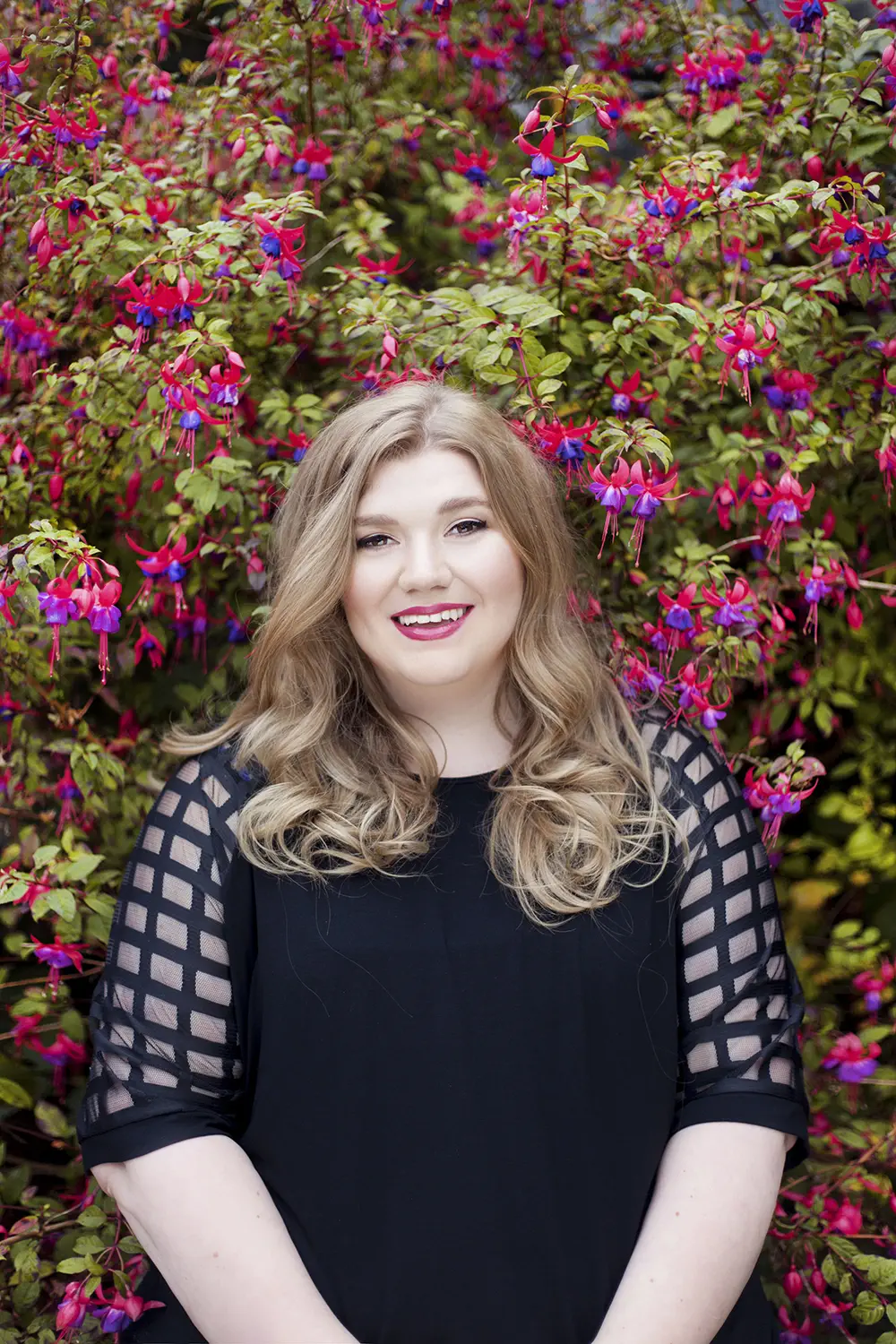 Hi, I'm Amber-Rose Thomas
BUSINESS COACH. ADS STRATEGIST. GIN AFICIONADO. FRANCOPHILE. CAT PERSON. 
I started Launch with Amber as a business coach who was tired of watching my clients get terrible results from the ads agencies they were hiring. I thought "We can do this better!" and so we did!
Now we offer done-for-you Facebook Ads services, launch strategy and trainings to coaches, experts and course creators all over the world.
I'm also a Facebook™ Blueprint Certified Ads Manager, and a professional marketing strategist with the Chartered Institute of Marketing (CIM) with a track record across multiple niches and industries. 
OR JUST WANT US TO RUN YOUR ADS FOR YOU?
01
BOOK A CALL
We'll start with a virtual coffee to get to know each other then, once we're signed on the dotted line, we dive straight into the fun stuff.
02
CHOOSE YOUR STRATEGY
We'll apply our winning ads recipe to your business with the ingredients you already have. Simple, elegant and strategic. 
03
BE HANDED PERFECT LEADS
Then we run your ads. Every week you'll get a beautiful report full of insights, and every day you'll add more perfect leads to your list. 
Like Free Stuff?
Get on the monthly Launch Letter list for free trainings.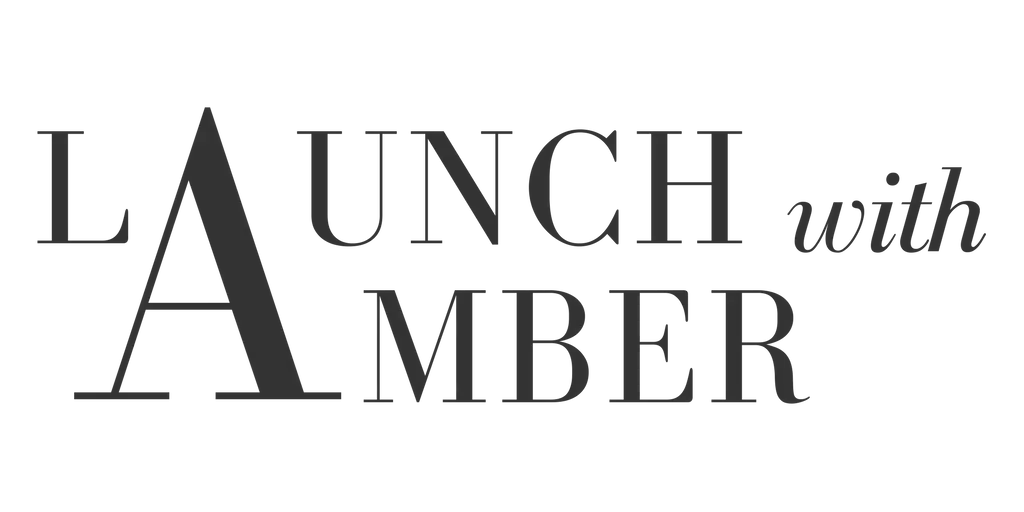 FACEBOOK ADS FOR COACHES
AND COURSE CREATORS